Family House volunteers make our house a home, from welcoming patients and caregivers to preparing warm dinners for guests after a day of medical appointments. Family House volunteering is flexible with your schedule—and it makes a serious impact.
House Volunteering
Family House is now officially "under one roof" and we are excited to reopen the new House Volunteer applications! To apply to be a House Volunteer, please email your interest to Volunteer and Events Manager, Shelby Glentzer for more information.
Group Volunteering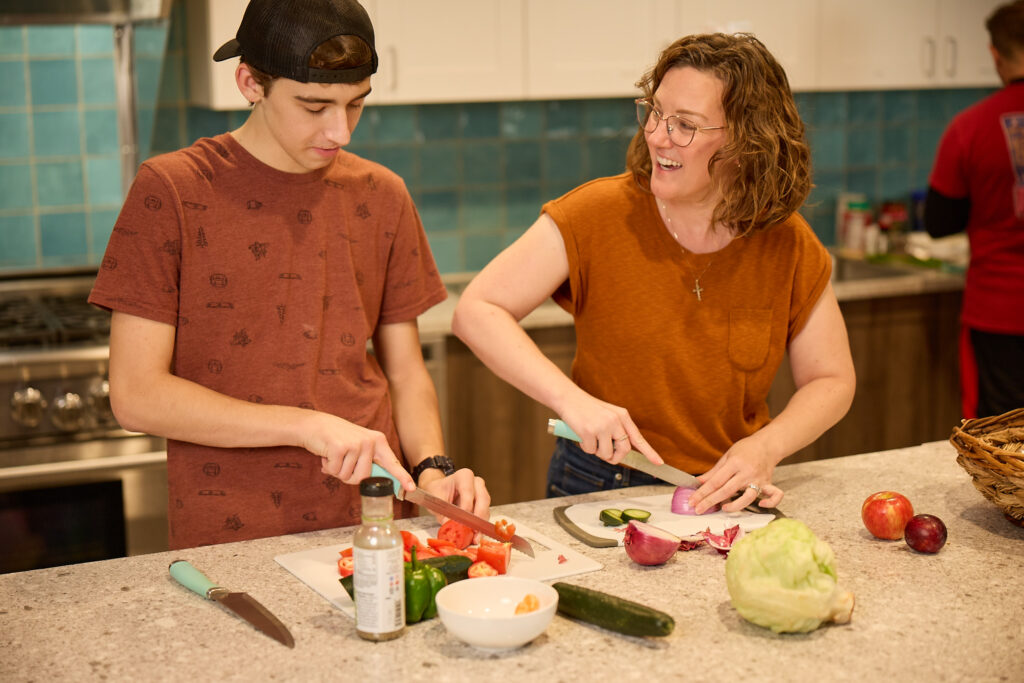 Group volunteering at Family House creates warmth and personal comfort for our guests that hotels simply cannot provide. Whether you are a local family, a corporate group looking to explore nonprofit opportunities, or a college organization in Pittsburgh looking to serve our community, Family House has the volunteering opportunity for you!
Below are just a handful of the group volunteer activities available at Family House:
Group Dinners: Groups of 10 or fewer are invited into Family House's kitchen to prepare and serve homemade meals for guests during their stay with us. Groups normally choose to serve dinner, but brunches are popular as well! Family House aims to create the warmth of a home; these home-cooked meals bring families comfort.


The average timeline for a group dinner is arrival time at 3:00 p.m., serving the meal at 6:00 p.m., and having leftovers put away and the kitchen clean by 7:00 p.m. This timeline can be modified.

Group Baking: Similar to dinners, groups arrange time in Family House kitchens to bake treats for our guests. This option is more flexible than group dinners because these baking projects last a maximum of two hours. Patients and caregivers appreciate arriving from a long day of appointments and treatments to the smell of fresh baked goods!
Grab n' Go Snack Bags: Our guests appreciate snack bags to take during a busy day of doctors' appointment. Vending machines and hospital food can be expensive, so this is a wonderful option for them. Volunteers prepare these bags at Family House or they can make them off-site and deliver. A few common snack bag items are: chip bags, fruit snacks, granola bars, bottles of water, etc. If created in house, please allot a two-hour window for preparation.
Pantry Drives: Volunteers keep Family House's kitchen pantries well-stocked with canned goods, cereals, pastas, and more. When families arrive after a long day of travel, it is comforting to find available meal options. Your group would collect pantry items for a set period of time (usually a few weeks) and then would coordinate dropping off the collection to Family House. We often need more of a particular item, so if this is an opportunity you and your group are interested in, a list of needed items can be provided per request, as it changes regularly.
Above are just a handful of the group volunteer activities available at Family House. If you are interested in any of the opportunities above or simply want to know more, contact

Volunteer and Events Manager, Shelby Glentzer

with the following info:


Your Name
Your Group
Opportunity of Interest (dinner, baking, etc.)
All other volunteer questions can be directed to Volunteer and Events Manager, Shelby Glentzer at sglentzer@familyhouse.org