Pittsburgh's prominence as a major international medical center drew critically ill patients from around the world. Under conditions of maximum stress, family members—often facing the loss of two incomes—had to improvise living arrangements at costly hotels or apartments, sometimes even sleeping in hospital waiting rooms or their cars. Further,without access to a nearby, safe, homelike option, patients were often forced to stay in the hospital longer than needed. In these situations, both the financial and emotional costs could be devastating.
Something needed to be done. In July of 1981, the phone rang at the offices of the University Health Center of Pittsburgh (UHCP). Two adjacent homes on McKee Place, long occupied by fraternities, were for sale. On a hot, humid Pittsburgh day, Joel Ettinger, UHCP Executive Vice President, visited the houses. They were abandoned, in serious disrepair, and reeked of long-ignored trash. Nevertheless, based on his helping to establish the Ronald McDonald House in New York while on the administrative staff of the Sloan-Kettering Cancer Center, he decided that these homes would become Pittsburgh's "home away from home" for adult patients and their families.
Also of great significance, Dr. Thomas Starzl, the world's liver transplant pioneer, had recently been recruited to Pittsburgh. As the city's academic medical center quickly became the international organ transplant innovator, hundreds of patients and families from across the country and around the world arrived in Pittsburgh with the hope of receiving a liver or other organ transplant. Where would these people find shelter, comfort, and support while their loved ones underwent lengthy, leading-edge medical procedures?
It took a coalition. Mary Lou McLaughlin, Chair of the Women's Auxiliary of the American Cancer Society patient and family housing program for patients and families traveling to Pittsburgh for state-of-the-art oncology treatments, joined with UHCP to help lead healthcare leaders, physicians, generous foundations, business and community leaders, and hundreds of volunteers to redesign and convert the two vacated fraternity houses into a model healthcare hospitality house. The initial lead gift from the Richard King Mellon Foundation was followed by other key gifts from the Pittsburgh Pirates, Frank Fuhrer, Jr., and many others.
On September 27, 1983, UHCP President Joel Ettinger and Mary Lou McLaughlin, Family House's first Executive Director, dedicated Family House at McKee Place—the first of what would eventually become four Family Houses located close to Pittsburgh hospitals.
Families and their loved ones facing life-threatening illnesses were welcomed to Family House by a crew of compassionate staff and volunteers to live and cook their own meals in specially designed shared kitchens and dining areas. All could recover and recuperate in comfortable surroundings for as little as $15 per night, or even less for those unable to pay. Every family became a member of all the families at Family House supported by staff and volunteers who saw their work not as a job but as deep, meaningful purpose.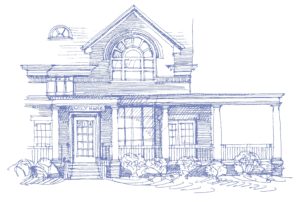 Within weeks of opening, the 39 rooms of Family House McKee were constantly filled, with an ever-growing waiting list. In 1985, Family House became a separate 501c3 charitable organization guided by a devoted Board of healthcare and community leaders, and hundreds of volunteers and staff. Among the handful of Family House founders was Howard "Hoddy" Hanna III. The Pittsburgh-based realtor, a community and business leader, helped identify and acquire Family House's second property on Neville Street.
Family House Neville opened in 1989, offering 40 additional guest rooms. With a large and welcoming front porch and large, bright windows, Family House Neville resembled a lovingly restored Pittsburgh mansion. Yet, it was much more: with the encouragement of Dr. Bartley Griffith, a heart transplant surgeon and Family House Board member, and with Food and Drug Administration approval, Family House Neville became the world's first out-of-hospital site to welcome a patient awaiting a heart transplant, being kept alive temporarily by a Novacor heart pump/ventricular assist machine while awaiting a donor heart.
While always striving to keep pace with the rapid advances in medicine, Family House continuously sought additional guest accommodations. From 1991-97, Family House opened a third home, The Family House Inn, with 47 rooms in a converted office building. When that space was no longer available, to help meet the ongoing demand Family House temporarily readied a floor in Montefiore Hospital until 2001. That same year, Family House Shadyside opened its doors with 44 beautiful suites to comfortably accommodate families.
As the need for affordable accommodations continued to increase, Family House sought locations within the heart of UPMC's academic medical center campus. In June 2009, the top four floors of the University Club, located on the University of Pittsburgh campus, were transformed into 43 guest rooms, with the former racquet ball court and locker room transformed into Family House University Place's main lobby, kitchen, dining, and living rooms. In total, Family House's four sites had grown to provide a total of 144 low-cost rooms with shared kitchens, libraries, fitness rooms, and more.
To ensure the organization's long-term sustainability, in 2015 Family House commenced a strategic business planning process to address rising operating costs and to ensure the organization's long-term sustainability. Among the outcomes of the five-year planning process, cost-cutting measures were undertaken, including the closure of Family House McKee. In addition, a series of studies was conducted with guests, community healthcare partners, volunteers, Board members, and staff to inform the organization's future operating model in response to the continuous modernization of healthcare practices and delivery, as well as to ensure that Family House would remain both fiscally responsible and sustainable.
In December 2019 the Family House Board voted unanimously to consolidate its multiple houses and administrative offices into two locations. Yet, as it began moving forward with plans to create a two-house, 121-room operation to meet the organization's long-term needs, serendipity interceded with news that the Shadyside Courtyard by Marriott was for sale.
This unexpected opportunity presented Family House with the option to consolidate all of its lodging accommodations, services, programs, and administrative offices into a single location. The six-story, 132-room hotel, which had just been placed on the market in early 2021, would provide the necessary space and operating functionality that Family House leadership knew were necessary to deliver its service mission long into the future.
Following extensive due diligence and input from its healthcare, financial, and community partners, the Board unanimously approved the purchase of the hotel in June 2021. On July 7, 2021, Family House completed the acquisition, thus, consolidating its services and operations into a single location under one roof. And just one year later on July 15, 2022, Family House opened its doors and welcomed its first guests to its future and forever "home away from home."
In September 2023, Family House commenced its 40th year serving patients and families who must travel to Pittsburgh for critical, often life-sustaining medical care. What began as a small but compassionate enterprise quickly grew into an innovative, much-emulated model of family and patient support systems.
Yet, the complete story of Family House was and remains today the human story—the sum of many individual stories of compassion, insight, determination, and generosity. The founders of Family House understood intuitively what later medical studies would confirm: critically ill patients who are surrounded by calm, comfortable families enjoy a better quality of life and have a more positive attitude toward their treatment than those without such support. The quality of life that guests enjoy at Family House is more than a kindness. It is a significant element in the treatment process itself.
"Pittsburgh did it right," said William J. Copeland, retired Vice Chairman of the former Pittsburgh National Bank and Family House's first Board Chair. "We could have raised the money and put people up in a hotel–other cities have done that.
"But we followed our hearts and created the right organization."